https://www.blohm-machines.com/en/
BLOHM
Vocational Training at Blohm Jung: Three Future Mechatronics Engineers Launch Their Careers in Hamburg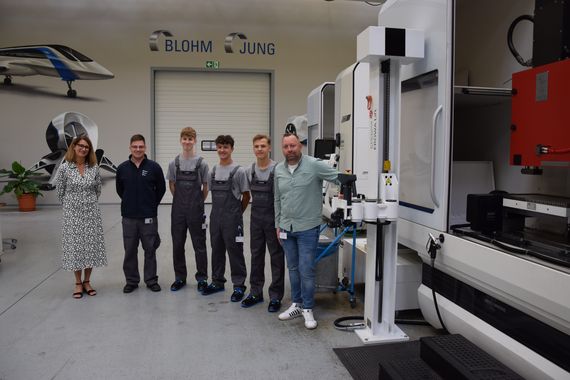 Our new trainees Johannes Kußmaul, Kevin Dill, and Marvin Leschke are now also familiar with the fact that the first day at work is always very special and a little exciting. All three began their vocational training as mechatronics engineers at Blohm Jung in August.
The newly established vocational training team and the entire workforce welcome them to our Hamburg site and wish them all the best and, above all, a great start in their careers.
Mechatronics engineers have a wide range of responsibilities. Whether it's measuring, testing, servicing, repairing, assembling, installing, or programming – the central objective of a mechatronics engineer is to ensure the smooth operation of machines and systems. So anyone interested in technology, skilled in crafts, and has a basic mathematical understanding is in the right place here. Our trainees learn the necessary theoretical and practical expertise throughout the 3.5-year training course.
As our cooperation partner for joint vocational training, our trainees will also visit Aurubis as part of the vocational training. The company has its own training center that also covers basic metalworking and electrotechnical training which we cannot teach in our company.
Right from the start, our trainees are allowed to actively shape their work environment at Blohm Jung – and we want to offer this opportunity to as many young people as possible. That's why we are not only represented at the "Traumberuf Schülermesse, Themenbereich IT & Technik" (Germany's largest series of college and career fairs, theme area IT & Technology) exhibition in Hamburg but also offer a variety of work placements for commercial and industrial sectors.